OSUNTIA TV....stay tuned!
Acting President Yemi Osinbajo is yet to receive the 2017 Appropriation Bill, 72 hours after it was passed by the National Assembly.
Details

Hits: 224
The Joint Admissions and Matriculation Board (JAMB) says it is monitoring the ongoing Unified Tertiary Matriculation Examination (UTME), through its central Closed-Circuit Television (CCTV) cameras in Abuja.
Details

Hits: 240
The future of Nigerian football has been described as very bright. This observation was made during the week by Rev. Samuel Ikpea, the National Chairman of Nigeria Football Supporters Club, while speaking with the press in his office in Lagos. 
Details

Hits: 810
The United States of America and the United Kingdom have expressed no doubt in the ability and commitment of Acting President Yemi Osinbajo to continue with the anti-corruption war and economic revival in Nigeria.
Details

Hits: 908
The presidency has not received the details of the 2017 Appropriation Bill which was passed into law by the National Assembly on Thursday.
Details

Hits: 325
Apart from your activity causing the bank to freeze your account, there are certain times when the government or court may ask the bank to freeze your account.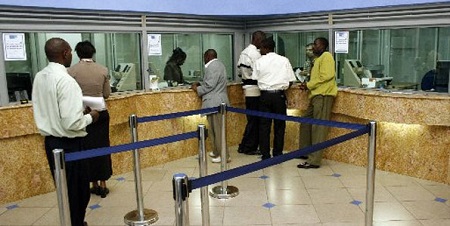 Details

Hits: 254
A staff of a new generation bank in Osogbo, Osun State, Abidemi Wasiu, who allegedly stole N8,449,000, from the accounts of two customers, was, yesterday, charged before an Igbosere magistrate's court, Lagos.
Details

Hits: 339
RE: Letter to Governors of Ondo, Ekiti, Oyo, Osun, Lagos and Ogun States


The attention of Odu'a Investment Company Limited (ODU'A) has been drawn to a publication by Chief (Dr) Isaac F. Akintade (immediate past chairman of Odu'a Investment) whose nomination as a Director was withdrawn by Ondo State Government on 22nd March, 2017 on Page 5 of The Nation Newspaper of Wednesday, 19th April, 2017 titled as above.
Details

Hits: 785