OSUNTIA TV....stay tuned!
It is a good news and way to go to have this succor at this time from organizations such as Infotech who brings it to the limelight that Facebook is partnering with Airtel to bring free basic internet services to Nigerian. This is a sign of relief that this organization are beginning to remember Africa in their generous planning. 
Details

Written by

General Secretary

Hits: 678
It was gathered today that Full payment of salary would be rolling in as soon as the 2016 budget is passed in Osun State or rather State of Osun. Hopefully, this would clear the air and workers can have genuine smile on their face again.
"Mr Najeem Salaam, the speaker of the House of Assembly of the State
Details

Written by

General Secretary

Hits: 709
Ice Prince Zamani took to his twitter page saying
"Just recorded the biggest song of my life, cant wait
This has keep his fans in great anticipation, waiting to see what the Chocolate city artiste have in store to release.
The rapper's sophomore album "Fire of Zamani" as well as his 2015 "Trash Can" EP were both dubbed not so impressive by industry critics and music analysts alike,
Details

Hits: 536
Now That The Niger Delta Avengers Militant Group has Decided to listen to the appeals from  prominent Nigerians, notable organisations and pressure groups appealing to them to lay down their arms.
The group has now Come up with a list stating their conditions for truce. the list just contain ten different terms and conditions
Details

Hits: 506
 Niger-Delta Avengers (NDA), The militants group are posing a threat of attacking  installations in Lagos, Abuja, Port Harcourt and Calabar on the occupants of this cities and this has heightened security situation in the country.
Because of this Attack threats, Troops  on Monday, May 9, stormed the home base of ex-militant leader, Government Ekpemupolo, alias Tompolo in Gbaramatu Kingdom, Warri South-West local government area of Delta state in search of the militants.
Details

Hits: 440
Report has it that the Academic Staff Union of Universities (ASUU) chapter of the Ondo
State University of Science and Technology has embarked on an indefinite strike action.
It was learnt that lecturers are being owed up to six months salaries by the state government.
Details

Hits: 444
Kim Jong-Un, North Korean dictator said he wont just use the nuclear weapons  first. HE said he will only use it if an enemy attacking use it first.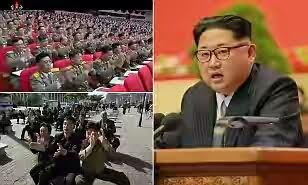 He said it while he was speaking at the North Korea Workers' Party congress last  weekend.
Details

Hits: 507
Donald Trump the GOP Presidential candidate on sunday made a suggestion that Paul Ryan(R-Wis),the House speaker would face consequences for not endorsing the businessman as the party's presidential nominee.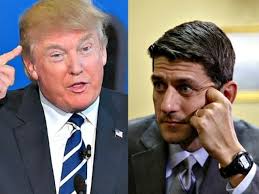 Speaking with NBC's Chuck Todd, Trump would not rule out trying to remove the Wisconsin congressman from his post as chair of this summer's GOP convention, a role traditionally granted to the speaker of the House, if Ryan did not come around.
Details

Hits: 477