OSUNTIA TV....stay tuned!
A young man, Promise Iwuoala, has been sentenced to 15 years imprisonment by an Apapa Magistrate's Court, Lagos, for raping a girl (names withheld) in Tedi community, Ojo Local Government Area of Lagos State.
The convict, a gateman at 15, Samous Street, Tedi, Ojo-Alaba, was arrested by policemen attached to Festac Police Station with the support of Lagos State Domestic and Sexual and Violence Response Team, DSVRT and Family Support Unit and charged to court , on a three-count charge
Details

Hits: 366
ON the lips of many Nigerians across the country are lamentations and tales of woe as hardship occasioned by the prevailing wind of recession bites harder. Apart from feeding, a host of the citizenry, who spoke to Vanguard, said they are finding it difficult to meet other basic needs of life.
Details

Hits: 400
In Nigeria's southwest region, the celebration in Osun State was marked in low key with prayers session instead of the usual pomp and parade at the NUT House in Osogbo, the state's capital.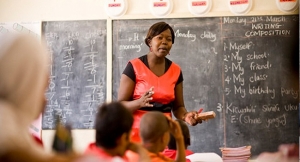 Details

Hits: 415
The Governor of the state of  Osun, Ogbeni Rauf Aregbesola, on Sunday assured Nigerians that the current economic recession would soon be over. Aregbesola said the present stalemate in the nation's economy remains a temporary test on transition.
Details

Hits: 783
Regiina Philip, earlier today was dragged before a Chief Magistrates' Court sitting in Osogbo, Osun State, for allegedly stealing 1,600 fowls belonging to a woman of God,  Pastor Titilayo Aluko.
Details

Hits: 453
The ongoing protest in Ethiopia's Oromia region has affected a cement factory owned by Alhaji Aliko Dangote yesterday. According to reports, the factory was torched by angry protesters, the government said.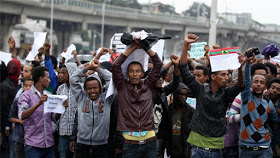 Details

Hits: 381
The All Progressives Congress (APC) has raised an eyebrow over Osun State Governor Rauf Aregbesola's weekend visit to Governor Ayodele Fayose in Ado-Ekiti, saying such a visit to Ekiti State is a slight on APC and contempt for the party's leadership in the state.
Aregbesola was in Ado-Ekiti on Saturday on invitation of Fayose for the 20th Year Anniversary of Ekiti State.
Details

Hits: 439
In what seems to be the effect of economic recession, many people have turned to begging and robbery as a means of livelihood in Osun state.
While begging is no longer new, especially in the last one year when salaries of workers were not being paid regularly, robbery in some major towns in the state have caused panic as people now sleep with their one eye open.
Details

Hits: 428